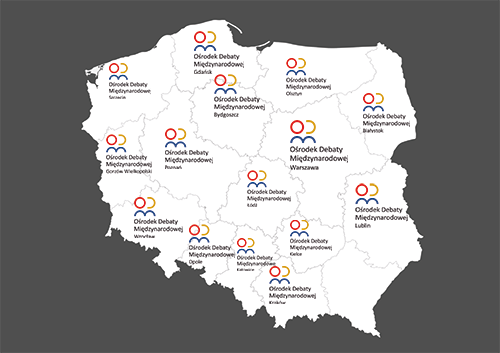 SIEĆ RODM
The Regional Center for International Debate Network (RCID)
The Regional Centers for International Debate (RCID) function across the country with a mission to perform the role of informational centres about priorities of Polish foreign policy and the activity of the Ministry of Foreign Affairs. The RCID's are also the primary channels of cooperation between the Ministry of Foreign Affairs, units of local authorities and non governmental organisations.
The centers have been selected by the Ministry of Foreign Affairs as a result of the open competition and are responsible for initiation and animation of the meetings, debates and other events involving representatives of key institutions, organizations, and centres for research and analysis in regions. RCID's are to organize the regional endeavors that engage the local experts and representatives of municipalities into discussion on functioning of Polish foreign policy at regional level, and the modes of local communities' inclusion in building up the recognized position and positive image of Poland in the international arena.
The Division of the Local Government and Civic Aspects of the Polish Foreign Policy in the Department of Public and Cultural Diplomacy is in charge of coordination the works of the RCID network within the Ministry of Foreign Affairs (contact: siec@msz.gov.pl).
BIAŁYSTOK
The Regional Center for International Debate in Białystok
ul. Kilińskiego 13, 15-089 Białystok
e-mail: rodm@rodm-bialystok.pl
www.rodm-bialystok.pl
Facebook
GDAŃSK
The Regional Center for International Debate in Gdańsk
ul. Pniewskiego 1, 80-246 Gdańsk
e-mail: rodm@rodm-gdansk.pl
www.rodm-gdansk.pl
Facebook
KATOWICE
The Regional Center for International Debate in Katowice
ul. Warszawska 37, 40-010 Katowice
e-mail: rodm@rodm-katowice.pl
www.rodm-katowice.pl
Facebook
CRACOW
The Regional Center for International Debate in Cracow
ul. Rynek Główny 34, 31-010 Kraków
e-mail: rodm@rodm-krakow.pl
www.rodm-krakow.pl
Facebook
LUBLIN
The Regional Center for International Debate in Lublin
ul. Rynek 18 (IIp..) 20-111 Lublin
e-mail: rodm@rodm-lublin.pl
www.rodm-lublin.pl
Facebook
ŁÓDŹ
The Regional Center for International Debate in Łódź
ul. L. Lindleya 5 A Pok. 7; 90-131 Łodź
e-mail: rodm@rodm-lodz.pl
www.rodm-lodz.pl
Facebook
OPOLE
The Regional Center for International Debate in Opole
ul. Powstańców Śląskich 22, 45-078 Opole
e-mail: rodm@rodm-opole.pl
www.rodm-opole.pl
Facebook
POZNAŃ
The Regional Center for International Debate in Poznan
ul. Kilińskiego 13, 15-089 Białystok
e-mail: rodm@rodm-bialystok.pl
www.rodm-bialystok.pl
Facebook
SZCZECIN
The Regional Center for International Debate in Szczecin
ul. Kilińskiego 13, 15-089 Białystok
e-mail: rodm@rodm-bialystok.pl
www.rodm-bialystok.pl
Facebook
TORUŃ
The Regional Center for International Debate in Toruń
al. Św. Józefa 23/35, 87-100 Toruń
e-mail: rodm@rodm-torun.pl
www.rodm-torun.pl
Facebook
WARSAW
The Regional Center for International Debate in Warsaw
ul. Krakowskie Przedmieście 64, 00-322 Warszawa
e-mail: rodm@rodm-warszawa.pl
www.rodm-warszawa.pl
Facebook
WROCŁAW
The Regional Center for International Debate in Wrocław
ul. Nankiera 17, 50-140 Wrocław
e-mail: rodm@rodm-wroclaw.pl
www.rodm-wroclaw.pl
Facebook